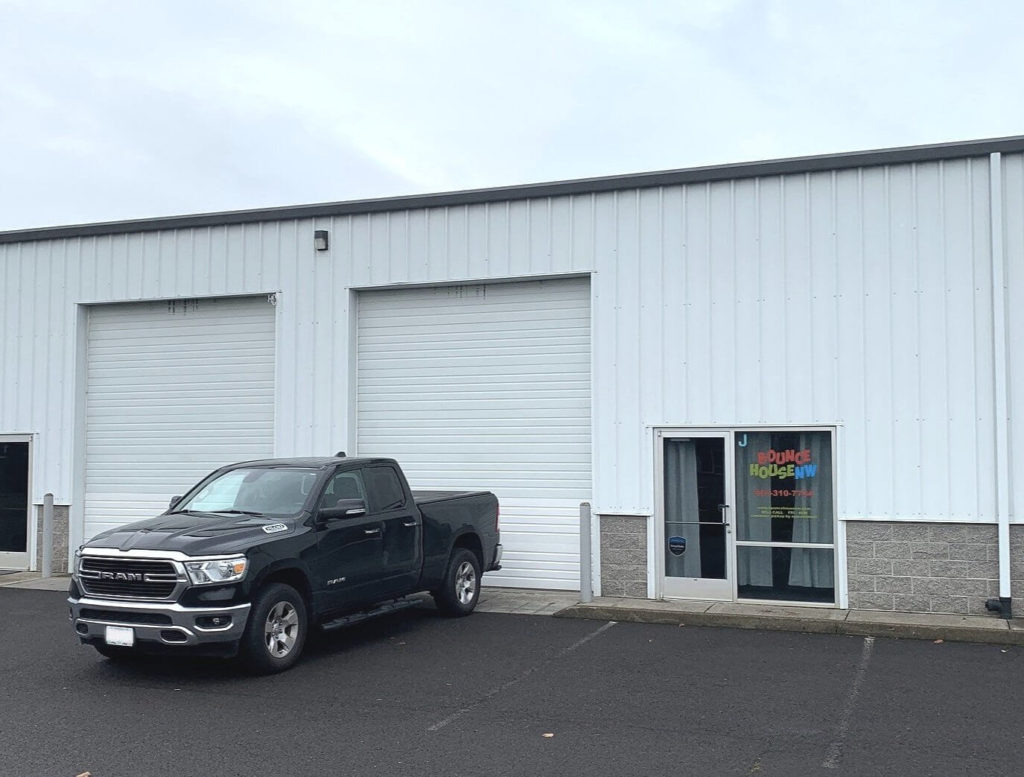 3155 SE Century Blvd, Suite J Hillsboro, OR 97123
Don't feel like doing it yourself? Click below to view our deliver map!
View Delivery Map
With our customer pickup (will call) option, you can pick up your inflatable on Fridays and return on Sunday (noon to 4) or keep till Monday for an additional $100. We are flexible on times, so we'll schedule a time with you.
It's very easy for most people to do a customer pickup. It usually takes less than 30 minutes to properly set up a bounce house, and non-inflatable items and inflatable games are even quicker. You'll usually need a large SUV, minivan, or truck to pick up your rental, depending on your selection.
We provide all necessary accessories for set up, including the blower to inflate the bounce house, stakes or sandbags, tarps, and a general A-frame rule board. You will need to provide the hand truck (or we have hand trucks available for rent).
Taking down a bounce house, rolling it up, and getting it back in your vehicle can be a little bit more difficult, but it's much easier after you watch the videos that we link below. Plus, we will go over this in detail, in person when you pick up your rental and we are always available with any questions.
Frequently Asked Questions
What are your will call hours?
Every Friday from 12:00 PM to 4:00 PM Pacific Time.
What's involved with the setup process?
Park as close as possible to your intended space, or closest gate to back yard (if applicable). With 2 adults, simply pull out the inflatable onto the ground and load it onto a hand truck. For the access path to the space (usually a backyard), you will need a minimum clearance of 3 feet wide to allow for the rolled-up inflatable and hand truck (dolly) to pass through. If additional space is needed it will be listed on our website under each specific rental. You will need a minimum of fourteen feed overhead clearance. Once you have determined you have enough space for the rental you've selected, place a large commercial tarp down, and then place the inflatable towards the back end of the tarp. This will allow you to properly roll the inflatable up when you are done using it since you always roll the inflatable up from the entrance to the back. So, when you are UN-ROLLING the inflatable for placement you would start at the back of the tarp, and roll it out toward the front entrance. Don't worry, if you accidentally unroll the inflatable backward just simply do a 180 and flip it around on the ground before inflating. Run an extension cord from your outside outlet to a location near the inflatable. Unfold both sides of the inflatable and then attach the nearest blower tube to the blower neck, and use the provided strap to tighten around the tube to the blower neck (we will also show this process in person). After the blower is attached, zip-up any Velcro zipper flaps. Jumpers have 1 zipper flap and combos normally have 2 zipper flaps. After you have confirmed that you have enough overhead clearance (a minimum of 14') turn the blower on. The inflatable will take at least 1 minute to inflate. After the rental equipment is inflated, stake it in at all 4 corners with a mallet by tapping a minimum of 50% of the stakes into the ground. For safety reasons, cover each stake corner with provided safety cones. If you are using sandbags, no cones needed. The inflatable will already be cleaned by us, so the last thing you need to do is place the A-frame rule board over one of the front corner stakes and text us a photo of the completed process. Once you text us a photo of the inflated rental equipment, we will text you asap with approval or necessary changes. Then it's time to enjoy!!
How do I take them down and roll them up?
The first thing you want to do when finished with rental equipment is clear out any toys, balls, or anything that might have been accidentally put in there by a child. Once the unit is cleared, turn the blower off, and then unzip all Velcro flaps to release all the air. It will take a minimum of a minute to deflate the equipment. Strategically place the corners towards the center of the inflatable to evenly distribute the vinyl so it's easier to roll up. In other words, you don't want a bunch of the material to be all on 1 side. You want the inflatable material as evenly distributed as possible. You will typically roll 14-foot jumpers up in ¼ sections. Meaning, you simply take 1 side and fold it towards the center a few feet. Then take the opposite side and do the exact same thing, mirroring what you just did. The result will be 2 sides folded towards the center of the jumper. Next, simply fold one side onto the other and you can roll up the inflatable. To roll it up, start with the inflatable entrance because it has less material than the end of the inflatable. The goal is to roll the inflatable as tight as possible from the beginning to make the final roll as tight and narrow as possible so that you can more easily transport it back to our facilities. Once the gear is rolled up, use the provided straps to wrap around the inflatable and tighten. Place the gear onto the hand truck (dolly) and roll it to your vehicle. Once at your vehicle, it's helpful to place the blower on the ground a few feet back from under the tailgate. This will allow you to place the inflatable onto the blower to use as leverage. Again, we will show you this process in person during pick-up. Return the inflatable and all supplied materials to us at our shop at the agreed-upon time. We will unload the gear for you at the shop.
Do you send me instructions for set-up & tear-down?
Yes, we send an email with full instruction and demonstration videos for all set-up and tear-down procedures. We will also show you this process in person during pick-up!
When can I return the rental?
Every Monday between 8:00 AM and 1:00 PM Pacific Time.
Is there an inflatable set-up demonstration video?
Yes, you can watch an inflatable training video here - https://www.youtube.com/watch?v=Spt1A7iptNI
Is there a demonstration video for tear-down?
Yes, there are actually 2 videos available, you can watch Part 1 here - https://www.youtube.com/watch?v=w9-pWIhnT-Q and Part 2 here - https://www.youtube.com/watch?v=sDgXuEHK6GM.
Do I get a discount if I choose will call vs. delivery?
Our pricing is the same for both will call and delivery service. We do not offer a discount since you get to keep your rental longer, which allows a lot more flexibility for your party or event.